Gog of Magog...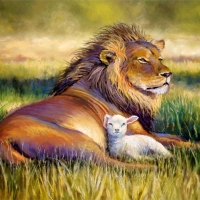 Brother Rando
Posts: 873
Gog of Magog in the Book of Ezekiel represents Satan's Entire Political system of things. It is Pre- Millennial. Once the Great Tribulation starts, Jesus separates the sheep and goats and then he turns his attention towards Satan's Entire Political system of things. Christ Millennial Reign actually begins at Armageddon, the Revelation Phase of his Presence. You can study the three phases of Christ Return to help with Spiritual Insight.
Satan's Earthly Organization has many facets and allies that work in its behalf to starve, maim, and kill anyone who refuses to receive its mark. "It puts under compulsion all people—the small and the great, the rich and the poor, the free and the slaves—that these should be marked on their right hand or on their forehead,  and that nobody can buy or sell except a person having the mark, the name of the wild beast or the number of its name." (Rev 13:16)
Soon, Gog of Magog will be no more.... and Satan and his hordes abyssed. After the 'time limit' of the thousand years comes to its end, Satan is released from the abyss and influences mankind once again to take on a rebellion. Those who reject Jehovah's Sovereignty as expressed by Christ and the 144,000 will gather Worldwide.
Gog and Magog comes about, as It is Post- Millennial. The conquest of Jesus Christ isn't over just yet, the War of Almighty God continues: "Now as soon as the 1,000 years have ended, Satan will be released from his prison, and he will go out to mislead those nations in the four corners of the earth, Gog and Maʹgog, to gather them together for the war. The number of these is as the sand of the sea." (Rev 20:7-8)
"And they advanced over the whole earth and encircled the camp of the holy ones and the beloved city. But fire came down out of heaven and consumed them." (Rev 20:9) "And the Devil who was misleading them was hurled into the lake of fire and sulfur, where both the wild beast and the false prophet already were; and they will be tormented day and night forever and ever." (Rev 20:10)
'Next, the end, when he hands over the Kingdom to his God and Father, when he has brought to nothing all government and all authority and power.' (1 Corinthians 15:24) It's at this point that, Jesus Christ can once again make the claim, "It has been accomplished!" He will have finished his conquest to the full, bringing mankind back to perfection as to the time of Adam and Eve's perfect condition prior to their willful sinning.... Please act today and be sure to visit Jehovah's Witnesses Official Website.
Tagged: